New Data Highlight Released: What do NCI-IDD Data Tell Us About How Many People with IDD are Enrolled in School?
by Dorothy Hiersteiner | October 12, 2022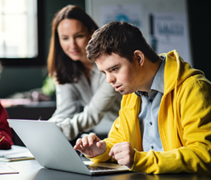 Without the advantage of education and training beyond high school, the ability of people with IDD to escape poverty and find employment is diminished.
Though the numbers of people who were enrolled in post-secondary education in the NCI IPS for 2020-2021 was very small, the availability of these opportunities is growing
According to the results 2020-2021 In-Person Survey (IPS), only slightly more than 3.2% of respondents with intellectual and developmental disabilities (IDD) aged 18-25 were enrolled in a college or university.
---